Chief Legal Officers shared perspectives on pro bono for the 10th Anniversary of the CPBO Challenge® initiative.  To read more quotes from the 2016 celebrations check out our slideshow from PBI's Annual Dinner.
"We are privileged to be members of this extraordinary legal profession, and we must never forget what inspired us to join it— the opportunity to help others in need. In no group is that more important than for those who can't help themselves…(.) We must be there to provide legal services, not just because it makes us feel good about ourselves, but also because it's the right thing to do."
Tim Pratt
EVP, Chief Administrative Officer, General Counsel and Secretary
Boston Scientific Corporation
Registration is now open for the 2017 PBI Annual Conference, March 8-10, at the Capital Hilton in Washington, D.C. PBI's Annual Conference is the legal profession's premier pro bono event and the only conference specifically tailored to the interests, needs, resources, and issues faced by law firm leaders, chief legal officers and in-house lawyers, and public interest and legal services pro bono leaders.
CPBO continues to create resources to address common obstacles to in-house pro bono and aid legal departments and ACC chapters to start and expand their pro bono programs. CPBO has published the following infographics on topics critical to in-house pro bono.
January 30, 2017
Top lawyers at Atlanta's largest companies discuss the benefits of pro bono at Legal Services Corp. session "The Role of Corporate Counsel in Expanding Access to Justice".
Read More...
December 12, 2016
Pro Bono Institute (PBI) seeks a creative and energetic professional to fill the position of Director for Corporate Pro Bono (CPBO), PBI's highly successful partnership project with the Association of Corporate Counsel (ACC).
Read More...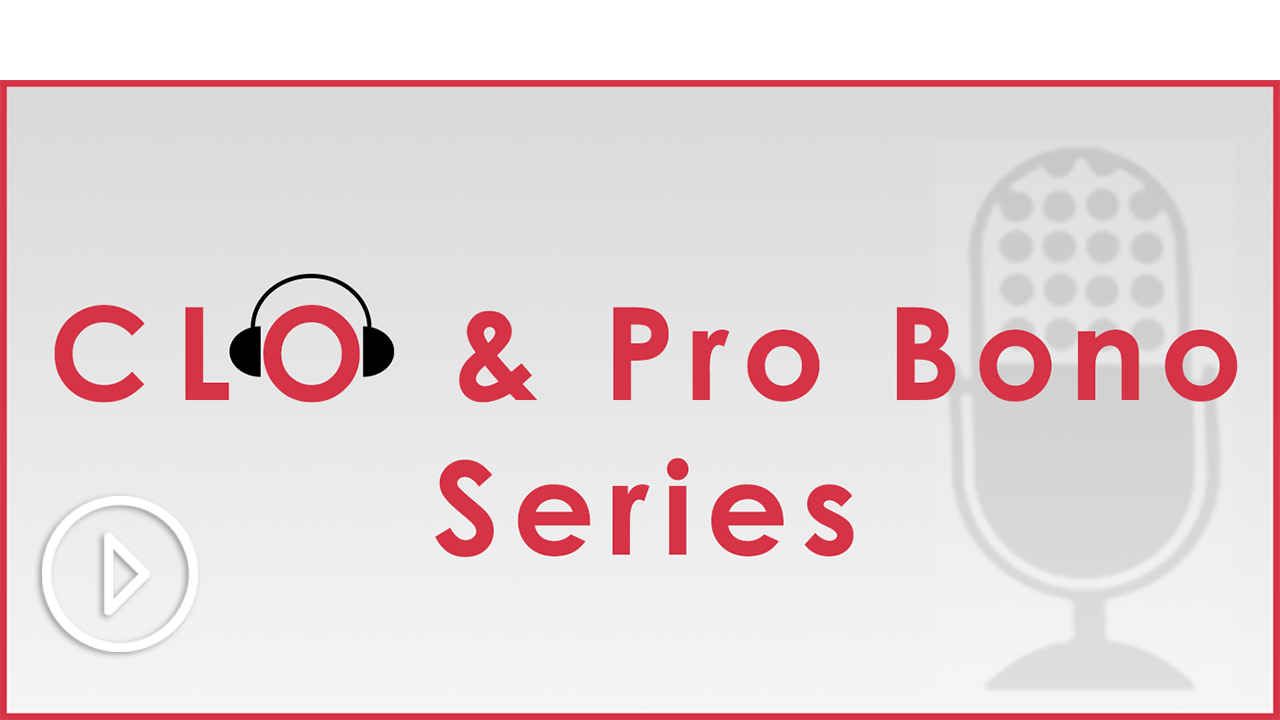 Tune into Pro Bono Institute's newest podcast "CLO and Pro Bono Series" and listen to chief legal officers of Corporate Pro Bono Challenge® signatories discuss the pro bono efforts at their departments and how they are working to improve access to justice.
3M Company*†
Abbott Laboratories†
Accenture plc†
Adventist Health System†
AECOM Technology Corporation
Aetna Inc.*†
Agilent Technologies, Inc.*†
Alaska Airlines, Inc.
Allstate Insurance Company†
Altria Group, Inc.*†
American Airlines, Inc.†
American Electric Power Company, Inc.†
American International Group, Inc.*†
AOL Inc.†
Aon Corporation†
Archer-Daniel-Midland Company
Arena Pharmaceuticals, Inc.†
Armstrong World Industries, Inc.†
ARS National Services, Inc.†
Association of Corporate Counsel†
Assurant, Inc.
AT&T Inc.†
Automated Financial Systems, Inc.*†
Bank of America Corporation*†
The Bank of New York Mellon Corporation
Best Buy Co., Inc.†
BlueCross BlueShield of Tennessee, Inc.†
Boehringer Ingelheim Corporation†
Boston Scientific Corporation
Bristol-Myers Squibb Company†
CA, Inc.*†
Capital One Financial Corporation
Cardinal Health, Inc.*†
Caterpillar Inc.*†
CBRE Group, Inc.
CBS Corporation†
Churchill Downs Incorporated
CIGNA Corporation†
Cisco Systems, Inc.
Citigroup Inc.*†
The Clorox Company*†
The Coca-Cola Company*†
Computer Sciences Corporation*†
Computer Systems Center Incorporated (CSCI)†
Counsel on Call*†
Cox Communications, Inc.†
Deere & Company*†
Dell Inc.*†
Deloitte LLP†
DHL Express (USA), Inc.
Direct Supply, Inc.
Discover Financial Services
DreamWorks Animation SKG, Inc.
Duke Energy Corporation†
DuPont
Duquesne Light Company
Entergy Corporation
Exelon Corporation*†
FactSet Research Systems Inc.
Federal Home Loan Mortgage Corporation (Freddie Mac)
Federal National Mortgage Association (Fannie Mae)†
Federal Reserve Bank of New York†
The Finish Line, Inc.†
Fireman's Fund Insurance Company*†
Fisher Healthcare*†
Ford Motor Company†
The Gap, Inc.†
General Electric Company*†
General Mills, Inc.
General Motors Company*†
Golden State Foods Corp.†
Hertz Global Holdings, Inc.
Hasbro, Inc.*†
Hewlett-Packard Company†
Hyatt Hotels Corporation
Intel Corporation*†
International Paper Company†
J.C. Penney Company, Inc.*†
Johnson & Johnson†
Johnson's Tire Service LLC
Kaplan Higher Education†
LexisNexis Group†
LMI (Logistics Management Institute)*†
LyondellBasell Industries N.V.
Marathon Oil Corporation†
Marsh & McLennan Companies, Inc.*†
Massachusetts Mutual Life Insurance Company
Mayo Clinic†
McDonald's Corporation†
Medtronic, Inc.
Merck & Co., Inc.*†
MetLife, Inc.†
Microsoft Corporation*†
MillerCoors LLC†
MSA Safety Inc.
MVG Development, Inc.
National Life Insurance Company (National Life Group)†
Nationwide Mutual Insurance Company†
The New York Times Company†
Office Depot, Inc.†
The Pep Boys-Manny, Moe & Jack†
PepsiCo, Inc.*†
PETCO Animal Supplies, Inc.†
Pfizer Inc.*†
The PNC Financial Services Group, Inc.
PPG Industries, Inc.*†
Prudential Financial, Inc.
Qualcomm Incorporated
Rick Engineering Company*†
Royal Bank of Canada†
salesforce.com, inc.
Sara Lee Corporation*†
Shell Oil Company*†
SIMNSA Co†
Starbucks Corporation*†
Starwood Hotels & Resorts Worldwide, Inc.†
State Volunteer Mutual Insurance Company
Symantec Corporation†
SYNNEX Corporation†
Synopsys, Inc.†
Target Corporation
TE Connectivity, Ltd.
Thomson Reuters Corporation†
TIAA-CREF†
The Toro Company*†
Towers Watson & Co.
TXU Energy*†
Tyson Foods, Inc.*†
U.S. Bancorp†
United Continental Holdings, Inc.†
United Parcel Service, Inc.*†
United Technologies Corporation*†
UnitedHealth Group Incorporated†
Vanderbilt University*†
Verizon Communications Inc.†
Viacom Inc.
Vulcan Inc.*†
Wal-Mart Stores, Inc.†
Walgreen Co.
The Washington Post Company*†
West Monroe Partners, LLC
The Williams Companies, Inc.†
WPX Energy, Inc.
Xerox Corporation
Yahoo! Inc.
*Indicates Charter Signatory †Indicates Challenge 100 Signatory