PBI proudly stands with leaders from law firms and legal departments who have signed letters declaring their support for preserving the Legal Services Corporation and increasing funding for FY 2018.  As stated in a letter joined by more than 190 chief legal officers: "By upholding the fundamental American promise of liberty and justice for all, the minimal investment in LSC generates a significant positive return for business and for the health of individuals and communities across the nation."
Read more here: Letter from Law Firm Leaders and Letter from Chief Legal Officers. Please contact us at president@probonoinst.org to learn more.
PBI stands with our stakeholders,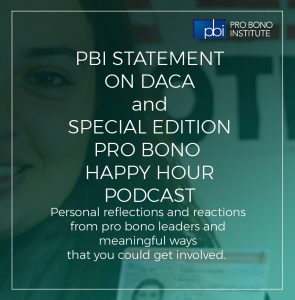 many of whom have represented the 800,000 Dreamers. Read PBI President and CEO Eve Runyon's full statement on DACA and how PBI will continue to support our stakeholders in finding meaningful ways to serve communities in need. Read the full statement.
Learn about in-house pro bono at the 2017 ACC Annual Meeting. Whether your department is looking to start a pro bono program or expand an existing one, we invite you to stop by the CPBO booth, attend our session "Ethics of In-House Pro Bono," or volunteer to participate in the on-site Clinic in a Box® program. CPBO's booth will feature information about starting a program, identifying partners, best practices, and a variety of other resources. For more information about in-house pro bono, or to schedule a time to meet with CPBO staff while you're in DC, contact CPBO at cpbo@probonoinst.org.

June 5, 2017
The Legal Department at Sanofi U.S. has provided valuable pro bono services in recent years. Over an eight-year period, the department, based in Bridgewater, has assisted more than 30 New Jersey organizations in more than 75 matters, according to Sanofi.
Read More...
May 16, 2017
The Legal Services Corporation (LSC) asked Congress today for $527.8 million for Fiscal Year 2018 because of the overwhelming need for civil legal services in the United States.
Read More...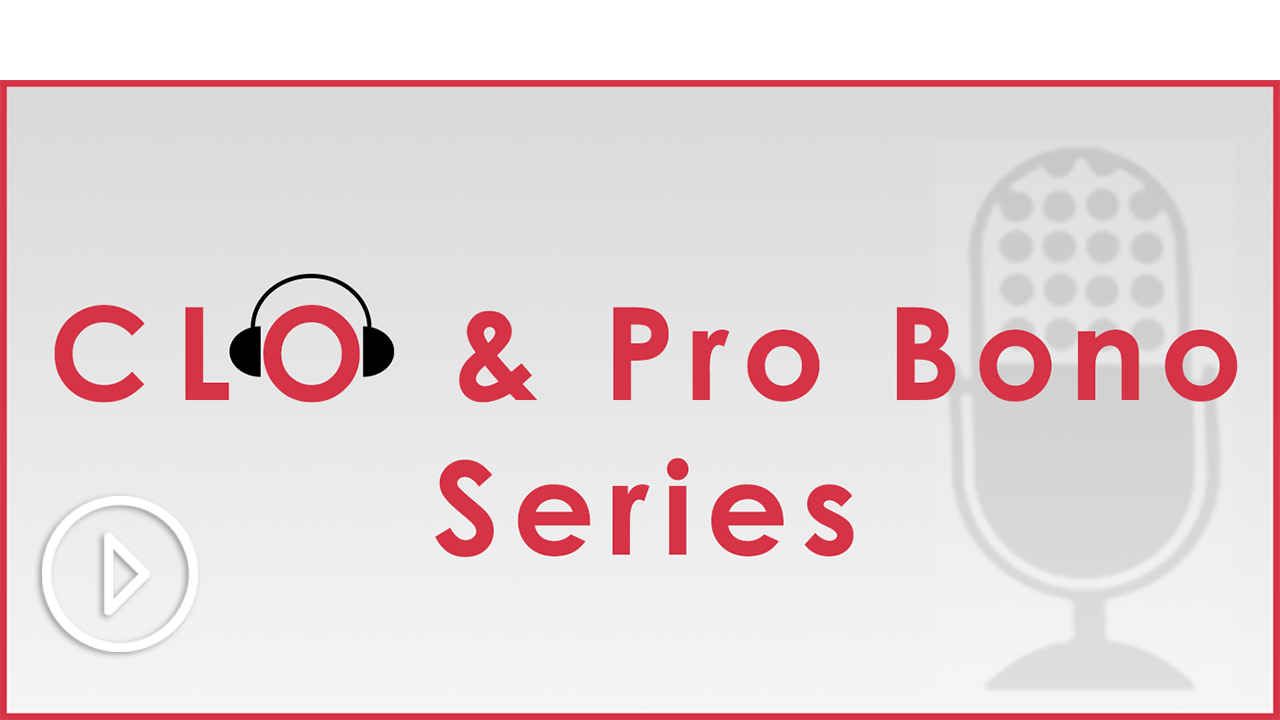 Tune into Pro Bono Institute's newest podcast "CLO and Pro Bono Series" and listen to chief legal officers of Corporate Pro Bono Challenge® signatories discuss the pro bono efforts at their departments and how they are working to improve access to justice.
3M Company*†
Abbott Laboratories†
Accenture plc†
Adventist Health System†
AECOM Technology Corporation
Aetna Inc.*†
Agilent Technologies, Inc.*†
Alaska Airlines, Inc.
Allstate Insurance Company†
Altria Group, Inc.*†
American Airlines, Inc.†
American Electric Power Company, Inc.†
American International Group, Inc.*†
AOL Inc.†
Aon Corporation†
Archer-Daniel-Midland Company
Arena Pharmaceuticals, Inc.†
Armstrong World Industries, Inc.†
ARS National Services, Inc.†
Association of Corporate Counsel†
Assurant, Inc.
AT&T Inc.†
Automated Financial Systems, Inc.*†
Bank of America Corporation*†
The Bank of New York Mellon Corporation
Best Buy Co., Inc.†
BlueCross BlueShield of Tennessee, Inc.†
Boehringer Ingelheim Corporation†
Boston Scientific Corporation
Bristol-Myers Squibb Company†
CA, Inc.*†
Capital One Financial Corporation
Cardinal Health, Inc.*†
Caterpillar Inc.*†
CBRE Group, Inc.
CBS Corporation†
Churchill Downs Incorporated
CIGNA Corporation†
Cisco Systems, Inc.
Citigroup Inc.*†
The Clorox Company*†
The Coca-Cola Company*†
Computer Sciences Corporation*†
Computer Systems Center Incorporated (CSCI)†
Counsel on Call*†
Cox Communications, Inc.†
Deere & Company*†
Dell Inc.*†
Deloitte LLP†
DHL Express (USA), Inc.
Direct Supply, Inc.
Discover Financial Services
DreamWorks Animation SKG, Inc.
Duke Energy Corporation†
DuPont
Duquesne Light Company
Entergy Corporation
Exelon Corporation*†
FactSet Research Systems Inc.
Federal Home Loan Mortgage Corporation (Freddie Mac)
Federal National Mortgage Association (Fannie Mae)†
Federal Reserve Bank of New York†
The Finish Line, Inc.†
Fireman's Fund Insurance Company*†
Fisher Healthcare*†
Ford Motor Company†
The Gap, Inc.†
General Electric Company*†
General Mills, Inc.
General Motors Company*†
Golden State Foods Corp.†
Hertz Global Holdings, Inc.
Hasbro, Inc.*†
Hewlett-Packard Company†
Hyatt Hotels Corporation
Intel Corporation*†
International Paper Company†
J.C. Penney Company, Inc.*†
Johnson & Johnson†
Johnson's Tire Service LLC
Kaplan Higher Education†
LexisNexis Group†
LMI (Logistics Management Institute)*†
LyondellBasell Industries N.V.
Marathon Oil Corporation†
Marsh & McLennan Companies, Inc.*†
Massachusetts Mutual Life Insurance Company
Mayo Clinic†
McDonald's Corporation†
Medtronic, Inc.
Merck & Co., Inc.*†
MetLife, Inc.†
Microsoft Corporation*†
MillerCoors LLC†
MSA Safety Inc.
MVG Development, Inc.
National Life Insurance Company (National Life Group)†
Nationwide Mutual Insurance Company†
The New York Times Company†
Office Depot, Inc.†
The Pep Boys-Manny, Moe & Jack†
PepsiCo, Inc.*†
PETCO Animal Supplies, Inc.†
Pfizer Inc.*†
The PNC Financial Services Group, Inc.
PPG Industries, Inc.*†
Prudential Financial, Inc.
Qualcomm Incorporated
Rick Engineering Company*†
Royal Bank of Canada†
salesforce.com, inc.
Sara Lee Corporation*†
Shell Oil Company*†
SIMNSA Co†
Starbucks Corporation*†
Starwood Hotels & Resorts Worldwide, Inc.†
State Volunteer Mutual Insurance Company
Symantec Corporation†
SYNNEX Corporation†
Synopsys, Inc.†
Target Corporation
TE Connectivity, Ltd.
Thomson Reuters Corporation†
TIAA-CREF†
The Toro Company*†
Towers Watson & Co.
TXU Energy*†
Tyson Foods, Inc.*†
U.S. Bancorp†
United Continental Holdings, Inc.†
United Parcel Service, Inc.*†
United Technologies Corporation*†
UnitedHealth Group Incorporated†
Vanderbilt University*†
Verizon Communications Inc.†
Viacom Inc.
Vulcan Inc.*†
Wal-Mart Stores, Inc.†
Walgreen Co.
The Washington Post Company*†
West Monroe Partners, LLC
The Williams Companies, Inc.†
WPX Energy, Inc.
Xerox Corporation
Yahoo! Inc.
*Indicates Charter Signatory †Indicates Challenge 100 Signatory