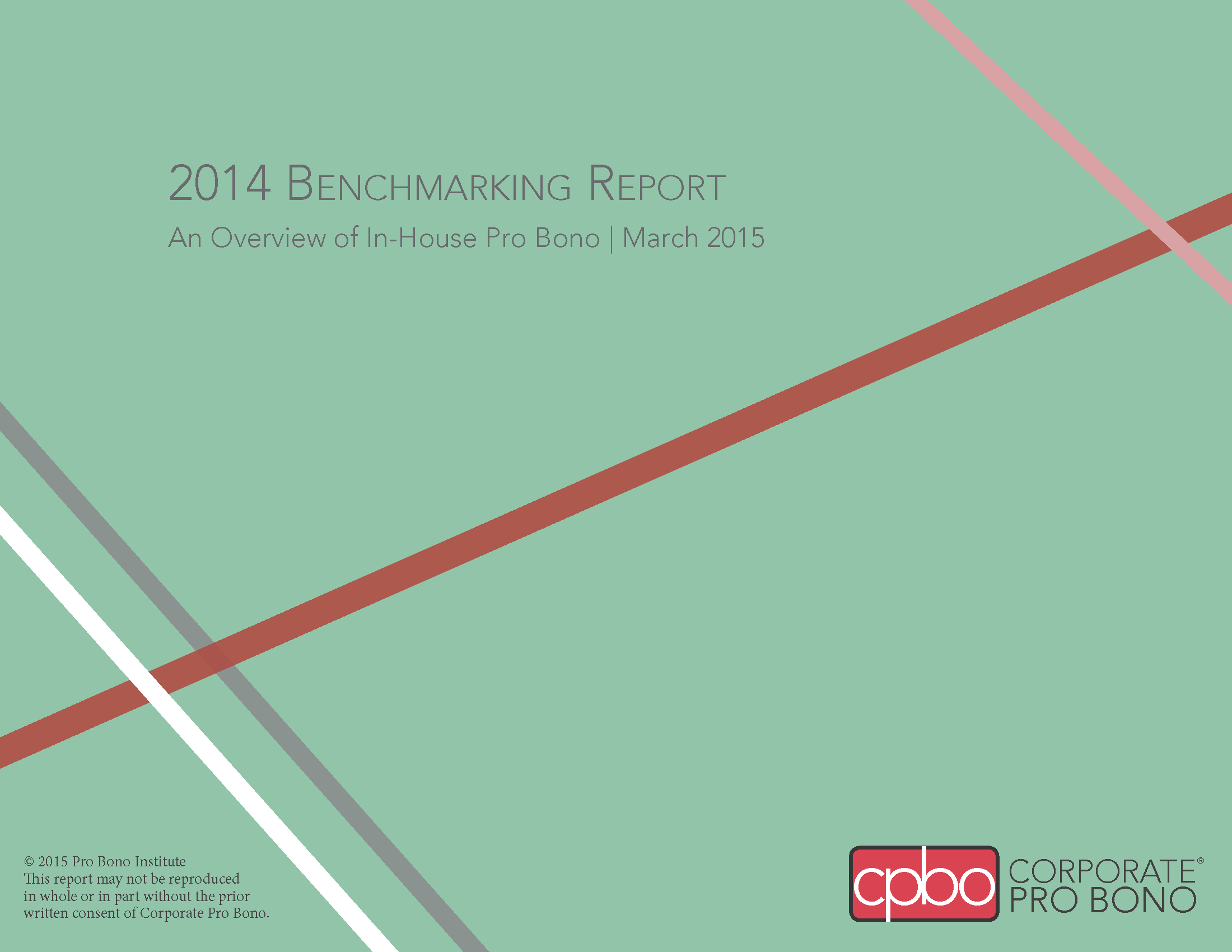 CPBO is pleased to release the 2014 Benchmarking Report: An Overview of In-House Pro Bono. The report provides insight on trends in in-house pro bono, enabling legal departments and other interested stakeholders to evaluate and track developments in in-house pro bono. 
CPBO welcomes nine new signatories to the Corporate Pro Bono Challenge® initiative, bringing the total to 142. CPBO congratulates the following on joining the CPBO Challenge® initiative:
Assurant, Inc.
Entergy Corporation
Factset Research Systems, Inc.
LyondellBasell Industries N.V.
The PNC Financial Services Group, Inc.
Qualcomm Incorporated
salesforce.com, inc.
Towers Watson & Co.
Yahoo! Inc.
For a list of all CPBO Challenge® signatories or more information on joining the CPBO Challenge® initiative, please click here.

Are you headed to the 2015 ACC Annual Meeting in Boston this October? If so, join CPBO on October 21 for a session titled, "The Chief Legal Officer's View of In-house Pro Bono." The session will feature a panel of leading general counsel who will discuss the role of CLOs and other in-house leaders in supporting pro bono efforts and address the growth and importance of in-house pro bono within the legal departments, companies, and the communities in which they work. We look forward to seeing you there!
June 18, 2015
In response to ACC's CLO 2015 Survey, CPBO provides insight on the status of in-house pro bono, including solutions and resources to address common challenges.
Read More...
May 11, 2015
McDonald's Corporation is honored by the National Law Journal as being Chicago Legal Department of the Year for Pro Bono. In 2014, more than 50 percent of its U.S.-based lawyers participated in pro bono.
Read More...